---
Dogs
Latest News
During November of 1998, two major events occurred in the life of my Dog, Comet. Firstly, Comet had surgery to remove a tumor from his side. I am happy to say that all went, and continues to go, very well. I have some pre and post-operative pictures.
The second major event in November 1998 was a small reunion with some of Comet's brothers and sisters. I have also documented the event with some pictures.
---
Dogs ... "Man's best friend!". An over used quote if ever there was one. But, does that make it not true? I think not. I honestly do believe that dogs are man's best friend. Don't just take my word for it, this sentiment is shared across the globe and through out time. This is evidenced by the following quote:
Near this spot are deposited the remains of one who possessed Beauty without Vanity, Strength without Insolence, Courage without Ferocity, and all the Virtues of Man without his Vices. This praise, which would be unmeaning Flattery, if inscribed over human ashes, is but a just Tribute to the Memory of BOATSWAIN, a Dog.
John Cam Hobhouse (1786-1869), British statesman. Inscription on the monument raised for Lord Byron's dog, Boatswain, in the grounds of Newstead Abbey, Byron's seat in Nottinghamshire.

The Columbia Dictionary of Quotations is licensed from Columbia University Press. Copyright © 1993, 1995 by Columbia University Press. All rights reserved.
Chase Casey's Comet
My dog's American Kennel Club Registered name is Chase Casey's Comet (as in to follow after the comet owned by/named after Casey). I just call him by the last part of his name -- Comet. The origin of his name is a derivation of his parent's names. His sire is named Casey To The Max (Casey for short) and his dam's name is Chase Revenge Llama Bowl (everybody just calls her Chase). I felt that this was a fitting tribute to his parents. With the first two parts of his name set, I then choose the last part of his name myself. As thinking for quite a while (all the time suffering the unending stream of suggestions from everyone I knew), I finally found the name the fit.

Comet is a Black Labrador Retriever. He was born on September 21, 1995 at 7:36am (New York time). He was born ninth in a litter of twelve puppies. All twelve of the puppies were black (the father is black and the mother is yellow). Of the twelve puppies, six were male and six were female. The births and whelping went very well and thanks are due the owners of Chase -- Pam Saez & Gina Fant.

Comet is in regular contact with both his father, Casey, and one of his sisters, Kelly. This contact is due to the fact their owners (Carol and Guy Maxfield) also live in New York.
---
Dogs at Play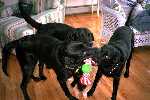 Comet and his father and sister love to play together. The picture above was from a recent trip to the country. The dogs love the country because they get to go swimming and run around free. However, they still don't like it when they get dressed funny....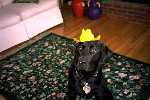 ---
Newest Addition
Last year, my sister Kim and Brian, her boyfriend, bought a English Bulldog puppy. Party like a Rock Star, or Rock, is a real bundle of energy. At first, the only other dog, in the family, that liked him was my dog, Comet. This has not changed over time. He constantly harasses Kelly, who is terrified of him. Also, Casey is bent on killing him.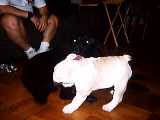 ---
Gallery
If you would like to see more pictures of the dogs, a gallery of pictures is available. This gallery will, I hope, grow over time. To that end, I have added some more pictures in a second gallery.
---
Copyright: © 2001, G. Stephen Maxfield. All rights reserved.
Last Site Revision: February 14, 2001.