---
Scuba Trips and Dives by Region
*
Continental United States
-
Florida
-
Massachusetts
-
New York
-
Pennsylvania
*
Caribbean
-
Bonaire, Netherlands Antilles
-
Cozumel, Mexico
-
Grand Cayman, Cayman Islands
-
Tortola, British Virgin Islands
-
Providenciales, Turks & Caicos
-
Walker's Caye, Bahamas
*
Central America
-
Ambergris Caye, Belize
-
Ocotal, Costa Rica
-
Roatan, Bay Islands, Honduras
*
Pacific
-
Maui, Hawaii
---
Dives 1 - 8, 28-32, 48 & 49, 73 - 79
My first planned scuba diving trip was for my original open water certification. This was a long weekend trip to Deerfield Beach, Florida. I was a real newbie back in March of 1993. At that time, Deerfield Beach was some the best diving I had ever had. Lets face it, it was some of the only diving I had ever had! An instructor I know once commented that no matter how much diving you do, no matter how good or how bad, a diver never forgets the first time they went diving. I still remember this trip.

The completion of my NAUI Advanced Open Water came in Deerfield Beach, FL. I returned to dive this area in November of 1993. After comparing this spot, to others I have dove, this is actually a really great place to dive. Warm drift diving, with lots of fish, make for some great dives.

My next two dives came as a side benefit to a trip I took with my Mother. She convinced me to go with her to visit my Grandmother in Sarasota, FL. It was January of 1995, but I brought my scuba gear along... just in case. I'm glad I did because I got the chance to do two dives in the Gulf of Mexico while I was there. Let me tell you, for being Florida and all, it was very cold water. But, I'm still glad for the chance to dive.

The second Morgan Stanley Scuba Club trip was to West Palm Beach, FL. Once again, due to my status as a founder of the club, I tagged along on this trip in August of 1995. This was a trip over a long weekend which does not mix well with bad weather. Even though the weather started out on the rocky side, we still had a good time with some good diving.
Dives 21 & 22
Later that same month and continuing on my quest for the different, I next dove on two lakes in the Berkshires. Fresh water diving was much calmer than diving the Northern Atlantic, but I actually found it colder.

Dives 20, 23 - 27, 72
After returning from Club Med, I decided that I wanted to try something new. What could I find that was different from the warm, clear, calm, fish and coral abundant Caribbean? The answer, of course, is to dive off of Long Island. Thus, in August of 1993, I dove the wreck of the Mistletoe (off the Rockaways).
As part of my next level of certification, I returned to New York and proceeded to do five more dives during September of 1993. These dives were a combination of boat/wreck dives and shore dives (from the lovely Beach 8th Street in Far Rockaway).
After an almost two year hiatus to diving off the waters of New York, I returned in June of 1995. I was scheduled to do two dives off the Rockaways. However, after swallowing some water after diving the Pipe Barge, I became very sea sick. I skipped the second dive even though all divers know that getting under the water is the best cure for sea sickness.

Dive 146
On July 26, 1998 at 1:57 in the afternoon, I dove in what I would consider the worst place I have ever been diving. The "Quarry" in Dutch Springs, PA. Now, for a site to do training dives, it is a very good place. There are good shore facilities and personnel. However, I can not see myself ever going there for recreation diving. It was a good thing that I was there for a training dive. On that day, I completed the Naui Rescue Diver certification.
Dives 33 - 47, 88 - 103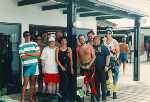 I visited one of the Jewels of the Caribbean for my next trip. Bonaire, in the Netherlands Antilles, is one of the nicest places to dive. One of the great attractions is the weather. Situated in the Southern most portion of the Caribbean means that Hurricanes miss the island. This was good news for me because I traveled there during the height of the Hurricane season, October, in 1994.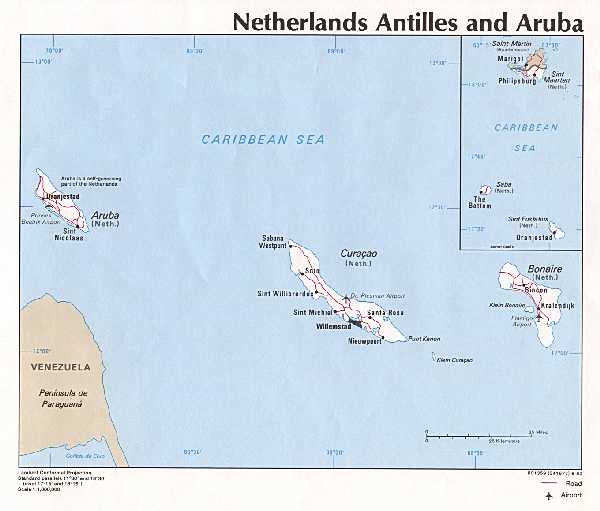 I returned to dive Bonaire, during September/October of 1996. This was the fourth MS Scuba Club trip (though the club seemed to have all but collapsed by this time). Though the accommodations and dive leadership left a lot to be desired, this trip was highlighted by several records for me: a dive to 129 feet (my deepest dive by just a bit), a dive that lasted a total of 71 minutes (after hitting over 80 feet), and my first time seeing free swimming sharks!!!! On the last dive, we spotted first one, then a pair of 5' long Black Tipped Reef sharks cruising along in about 15' of water.
Dives 50 -71, 131 - 145, 166-185
Cozumel, Mexico was my next dive trip in April of 1995. This was the first official trip of the Morgan Stanley Scuba Club (I went along even though I was no longer with Morgan). I was actually a little depressed going into the trip, because I had just come out of a bad work situation and was between jobs. However, the excellent diving that I found there certainly cheered me up. I would have to say that my favorite type of diving is Drift Diving! Not having to kick so much nor having to find your way back to the boat are definitely very large perks.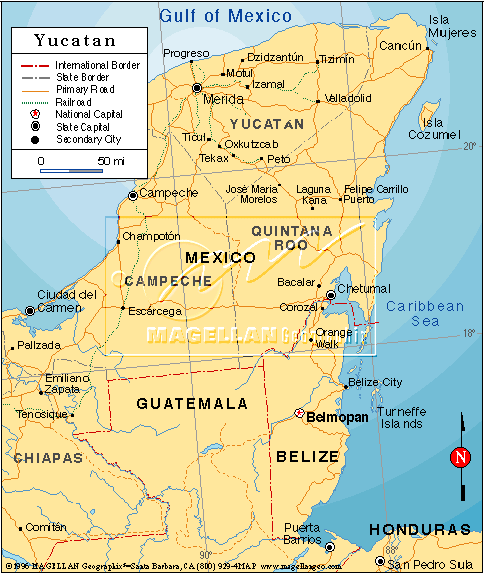 This was my second trip to Cozumel, Mexico. This trip was in November of 1997 (my last trip there was in April, 1995). Once again, the drift diving was excellent. Del Mar Aquatics does run a very good dive boat (their paperwork and office procedures could use some work however!). Besides a little evening rain and afternoon surge, the weather was typical Cozumel -- Sunny and mid 80's every day.
For those of you who were thinking of going on this trip and didn't, you missed an AWESOME trip!!! I think the best day of diving was day five. We paid a little extra and dove the South end of the island. The sites, Maracaibo Reef and Colombia Shallows, were great. At Maracaibo, we got to touch a 3 1/2' turtle. At Colombia Shallows, we saw a 5' Spotted Eagle Ray in about 15' of water. All in all, it was great diving!!!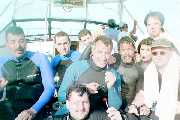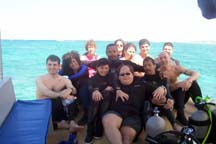 For my first trip in 1999, I returned for my third visit to Cozumel. Cozumel is definitely one of my favorite places to dive. I love to go drift diving as it is very relaxing with no stress about getting back to the boat. I dove with a great group of people. Some of the people I had known from previous trips and some I met for the first time. Hopefully I will get to go diving with some of them again.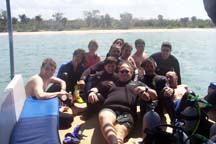 The diving was excellent. The best day was the day we dove some Southern sites ... Maricaibo and Columbia Shallows. On the first dive, we saw a couple of large Green Sea Turtles. On the second we saw a very large Barracuda and a medium sized Nurse Shark.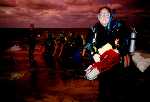 My first trip to the Caymans showed how bad weather can affect our diving. Grand Cayman is supposed to be famous for its great diving in great weather. However, in January of 1997, the weather was cold and stormy. The diving, being limited to the South side due to weather, was still good. Before I can pass judgment on Cayman as a dive site I will definitely have to go back and check it out again (hopefully in better weather).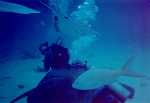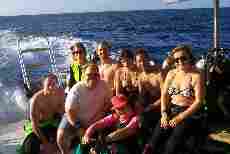 Due to my changing jobs in 1998, it was about a year from my last trip to my second trip to Grand Cayman. I went back to Grand Cayman in November of 1998 for a week. On this trip, I stayed at Coconut Harbour and dove with Parrot's Landing. The weather on this trip was much more cooperative than in the past. We were able to dive the South and West sides. The dives we had scheduled for the North Wall were blown out due to rough surf. So, I have yet to dive the North Wall. But, I did have a lot of fun diving Stingray City (see picture below).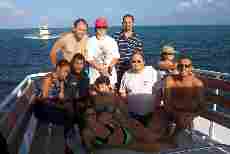 The last night before returning home, we went to hang out with some of the really nice dive master's from Parrot's Landing (Hi Jennifer!!!). As you can see from the picture below, we had some fun!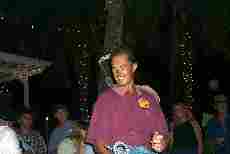 Dives 80 - 87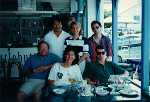 May of 1996 was when the third MS Scuba Club trip went to Tortola, in British Virgin Islands. This was also a long weekend trip and we learned a valuable lesson from this -- don't travel very far if you are only going for a weekend. This was a great trip, but we spent way to much time getting there and back for just a long weekend. The diving was great (which made up for a lot). Diving the wreck of the H.M.S. Rhone, one of the best wreck dives in the Caribbean, was excellent. The highlight of the trip for me, however, was seeing my first shark!!!!! Even though it was just a Nurse shark.

Dives 9 -19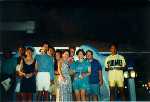 The next trip that I took was to Club Med Turkoise. I choose this Club Med Village because it was a dedicated dive center (their term for a village that caters to scuba divers). Club Med Turkoise is on the island of Providenciales (Provo for short) in the Turks & Caicos chain. Again, at the time (May, 1993), I felt that this was the best diving I had had to date.

Dives 122 - 130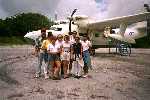 Walker's Cay in the Bahamas was definitely a great trip. The famous "Shark Rodeo" dive was an awesome sight and it made for a great video. As you can see from my previous dives, it took a long time to for me to see my first shark. On this trip, we saw sharks on almost every dive. What a tough life!!!
This trip, like my last one to Grand Cayman, however, was a good example of diving being affected by weather. On the first day we arrived, the dive had to be aborted due to rough seas and current. But, the weather did clear up over the weekend (end of May to the beginning of June, 1997). And, we got the rest of our day dives in. Poor visibility kept us from doing a night dive however! Aawwwww!!!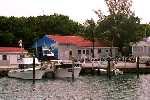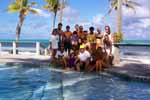 I reached my 200th dive on my third trip of 1999. Belize is also a lovely country with very nice people. Being a former British colony, English is the primary languge along with Spanish. The diving on Ambergris Caye is quite good. The only caveat on diving there is that the seas can be rough at times outside of the world's second largest barrier reef. On this trip, I saw a large number of Sharks, with several Spotted Eagle Rays, and my first Manta Ray. All in all, it was excellent trip.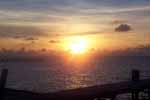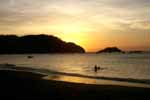 Right on the heels of my last trip, my second trip of 1999 was to Costa Rica. Costa Rica is in Central America, just South of Nicaragua. The trip was to the Ocotal region which is in the Northwest portion of the country, on the Pacific side. The diving in the Ocotal region is very different from diving in the Caribbean. The water is much more like diving around NYC. At depth, the average temperature was around 74º Fahrenheit with a visibility of around 15 feet.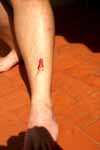 Even though I was wounded on the boat, I had a great time. The country and the people of Costa Rica are both great.

Due to a hectic schedule, I was only able to go on one scuba trip in 2000. In May, I went for a week to Roatan. Roatan is one of the Bay Islands of Honduras (which also include Utila, Guanaja, and Cayos Cochinos). While in Roatan, I stayed near the west end of the island at the Inn of Last Resort. I definitely enjoyed the trip and the diving -- even though I didn't see anything really remarkable. I guess that I would summarize the diving as good, solid diving with a nice variety and quantity of sealife and coral.

Dive "0"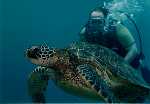 The first trip that I went scuba diving on was not planned as a scuba trip. It was back in 1992 and I traveled with my Mother and Grandmother to Hawaii for my Grandmother's 88th birthday. We stopped on the five biggest islands in the chain, one of which was Maui. It was there that I had my first experience Scuba Diving. It was just a short resort course. But, after that, I was hooked.
---
Copyright: © 2001, G. Stephen Maxfield. All rights reserved.
Last Site Revision: February 08, 2001.